Guerrilla Gardening
Guerrilla Gardening - Post-jam Ground Broken
---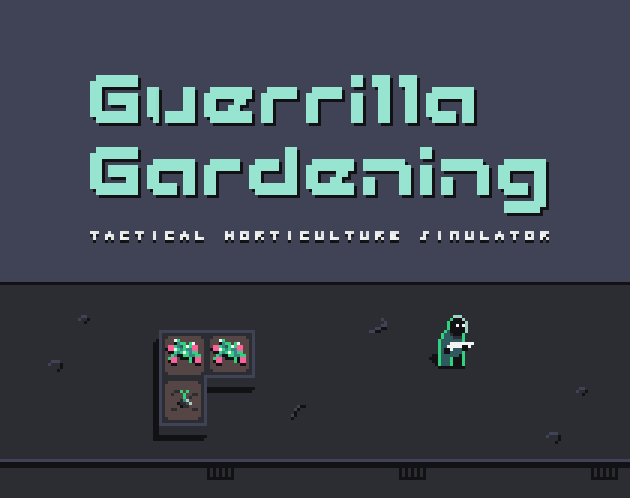 Guerrilla Gardening is my entry for Ludum Dare 41, a twin-stick shooter/farming sim hybrid in a cyberpunk setting.
As is the norm for Ludum Dare games, I had to scale back significantly from my initial ambitions - I had originally planned a significantly different game loop that involved harvesting and selling fruit and replenishing water and seeds, as well as a story that involved a combination of narrative genres.
Nonetheless, I think this is the most fun Ludum Dare game I have made to date, and I have had some great feedback on it, so I want to develop it a bit further. The first update that I am working towards will mostly involve polishing the existing gameplay.
First Update
The most significant changes will be:
Scoring based on harvesting strawberries, rather than just maintaining the plants
Difficulty levels
High-score system
New enemy types and new enemy behaviours (such as attacking plants)
Second Update
After that, I will work towards a release with a more fleshed out world, a narrative, and deeper gameplay. My current plans include:
Cyberpunk/coming-of-age narrative
Larger, more varied city environment that opens up through gameplay
Full life-cycle farming
Multiple plant types, with seeds being a limited resource
Gameplay based on capturing and defending territory as much as farming
Environment that is reactive to the player's actions
Player upgrades and items
First Steps
To kick things off I have modified the camera controller to be a bit more fluid and not at a fixed distance from the player, and introduced better feedback when the player and enemies are hit. A minor step, but an important one!